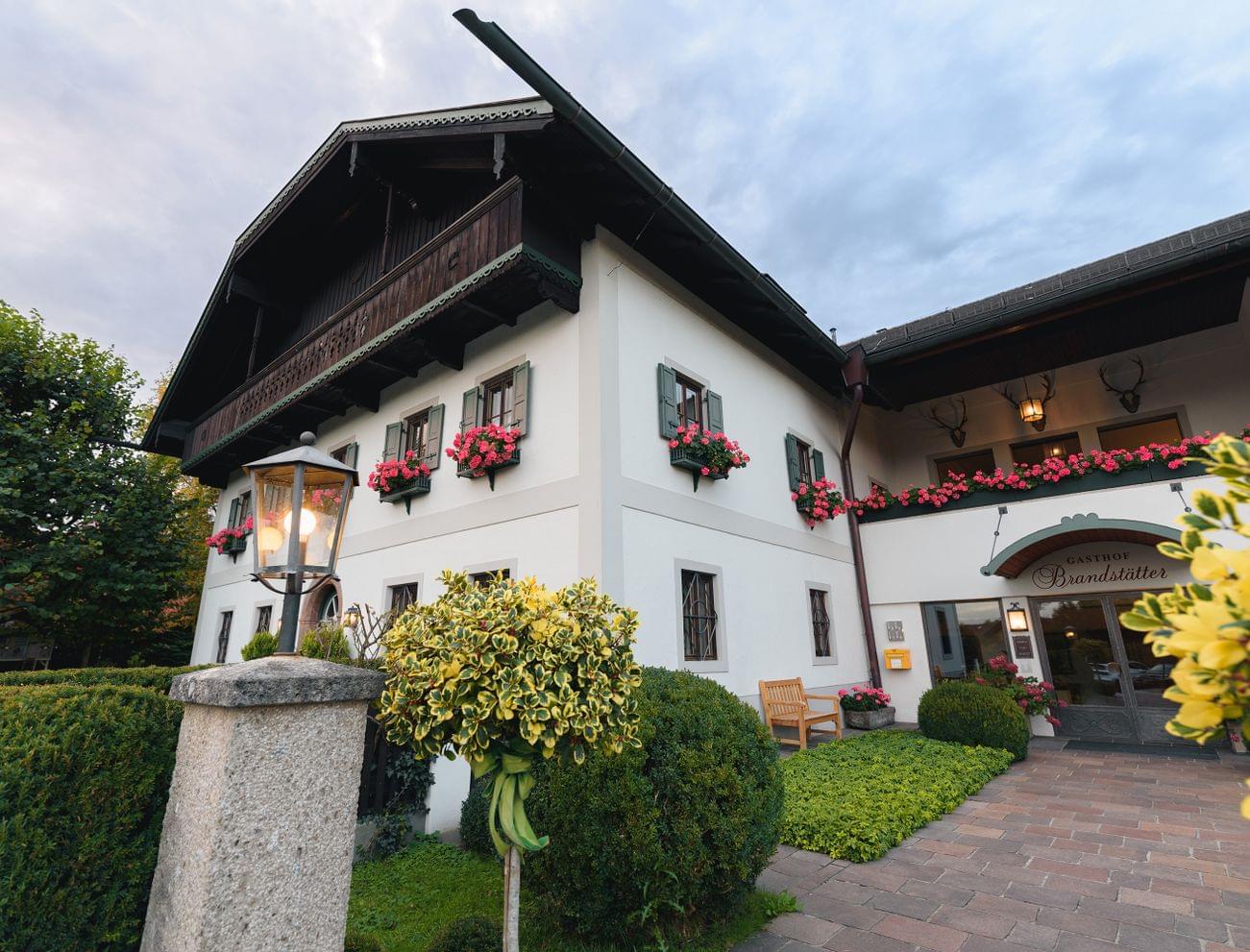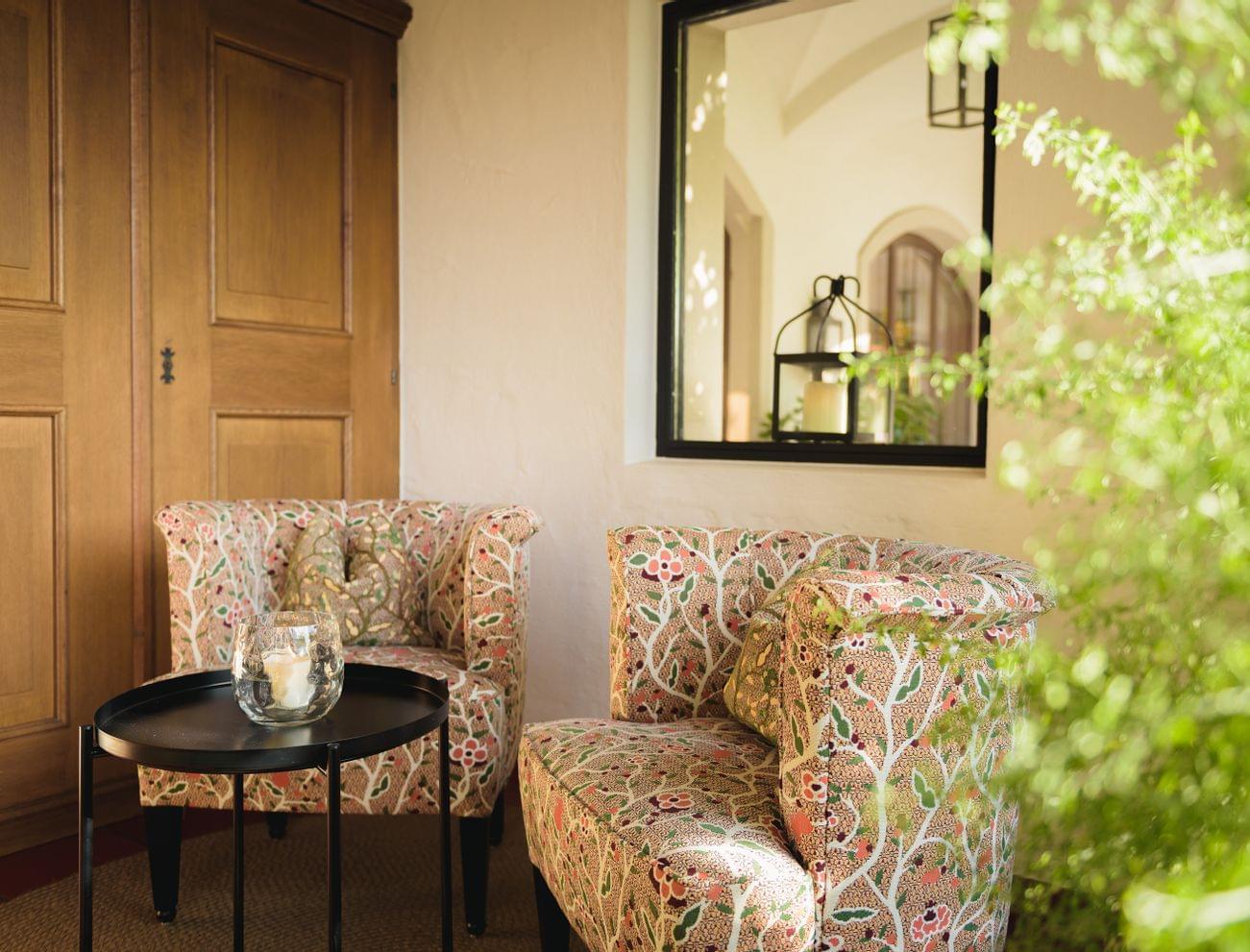 Your hotel in Salzburg close to the exhibition centre
Welcome to the 4 star Hotel Gasthof Brandstätter
A wealth of practically unlimited options await holiday-makers, city tourists, culture enthusiasts, gourmets, connoisseurs and business travellers in Gasthof Hotel Brandstätter.
In this well-connected hotel in Salzburg, close to Salzburg exhibition centre, the airport and Salzburg's old town area, Salzburg hospitality is alive and well and inspires in a stylish ambience. The hotel with idyllic garden in the Salzburg-Liefering area is an ideal starting point for business travel or for your private stay in Salzburg.
Direktbucher Vorteile
6 good reasons


to enjoy a stay in the Hotel Brandstätter
Cosy and traditional ambience with a great deal of attention to detail
Stylish, charming rooms & suites with bespoke flair
Extensive green oasis with garden that tempts you to stay for a while and relax
Multiple award-winning cuisine at the gourmet restaurant and a wide selection of outstanding wines
Sauna area, relaxation rooms and indoor pool with access to the garden
Conveniently situated - in terms of transport links - to the exhibition centre, the city centre, the airport and the loveliest sights and excursion destinations, as well as plenty of car parking right at the hotel
Cosy ambience rich in tradition
'A hotel must have soul', the Brandstätter family, owners of the 4-star hotel close to the exhibition centre and Salzburg's old town area are convinced of that. That is why hospitality is a matter which is dear to our hearts. And this is palpable right to the very last nook in our lovingly designed hotel and in the wonderful garden. This is confirmed by the many loyal, regular guests who come to stay in this elegant and stylish gourmet hotel.
The 4 star hotel set in superb lush surroundings is therefore regarded as being an exceptionally charming, family-oriented option for everyone who adores style, cosiness and an abundance of lovely details in a very well nurtured ambience. Here you get to enjoy the calm before the storm, or after it. After forays through the town, after a bike tour, a short stroll through the surrounding area, or even after a business day, the indoor pool and the sauna area await – then, as the highlight of the day, enjoy a pleasure-filled evening in the gourmet restaurant!
Stylish, individual rooms & suites
The moment when the ballast is shed and the door closes behind you. Enter a stylish oasis of down time that has been attentively designed and developed across the decades. You can feel that tradition is alive and well here, and that provides a sense of security. And tempts you to stay. Lie back with the views to the garden oasis which is right before your eyes. And simply enjoy being pampered.
Multiple award-winning cuisine
The Hotel Brandstätter and its restaurant, that has received many awards, is the epitome of good taste in every respect. This ranges from the consistently cosy, exquisite interior and the many lovely details, that dazzle the eyes, to the finest of delicious foods that provide a feast for your palate. Head Chef Tobias Brandstätter and Sous Chef Karl Poller enchant guests' palates with their creations and delicious meals from Austrian cuisine. Having received awards and recommendations on many an occasion from renowned restaurant guides including Gault Millau and specialist magazines such as A la carte, in Restaurant Brandstätter you can look forward to the highest culinary standard.
Relaxing sauna area and indoor pool
The indoor pool which provides access to the garden and the sauna area with its relaxation room provide relaxation and well-being after a successful day of business or an action-packed day during your holiday in Austria's cultural city, Salzburg, and its enchanting surrounding area, Salzburger Land.
Which 4 star hotel is situated right at Salzburg airport?
Just a stone's throw from the motorway connection 'Salzburg Mitte' as well as the exhibition and event centre in Salzburg, the hotel is easy to access on the green border of the festival and cultural city of Salzburg. Whether you are arriving by car, train or plane - the Hotel Brandstätter is a central starting point for business travel and cultural stays.
During your holiday Salzburg city centre is within easy access by public bus, approx. 15 minutes away. The stop is right outside the Hotel Brandstätter.
Give the gift of joy with a voucher for the 4* Hotel & Restaurant Brandstätter.