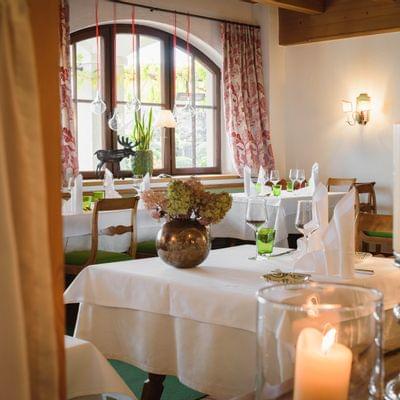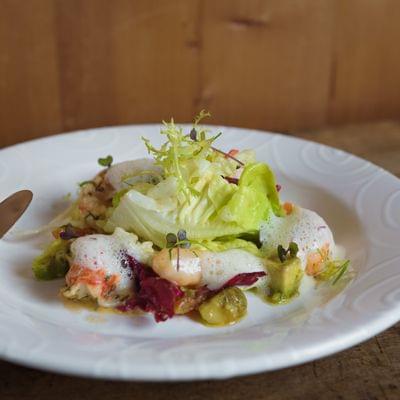 Whether it is a romantic time together as a couple, to round off a successful business meeting, or as a social get-together: Choose what you like from the à la carte offer in Restaurant Brandstätter. The culinary style that, in the truest sense, graces the 'signature' menu, gives you an initial taster of what is to come. To start, delicious home-made spreads with home-baked grissini, stylishly presented in beautiful Gmundner ceramics. And how does it continue?
The best thing to do is take a look at the menu of the toque-awarded Restaurant Brandstätter:
The "Bib Gourmand" award from Guide Michelin represents carefully prepared and great value meals. The culinary selection from Tobias Brandstätter is as down-to-earth as the prices in this Gasthof in the city of Salzburg. That this Head Chef has always remained true to his originally forged, very honest selection – in terms of the meals offered and the pricing – is an important point for the enduring success of this renowned Salzburg restaurant.
Zirbenstube or guest garden?
Depending on the season and the weather, enjoy an epicurean time-out, either in the aromatic Zirbenstube, or in the romantically idyllic guest garden. The traditional Gaststube with its timeless and cosy style, along with additional, smaller snug in the garden area, provide a suitable setting for any culinary occasion.
In the toque-awarded Restaurant Brandstätter in Salzburg you will be indulged by experienced staff who have many years of service behind them. Guided by our Restaurant Manager and Sommelier Andreas Eichberger and Nicole Schellenberg, our team will inspire and you will enjoy advice, ranging from the menu sequence to wine accompaniments – and a personal atmosphere, which means that when you next visit, we know exactly what your favourite wine is, or whether you prefer your water still or sparkling. An example of Salzburg hospitality that is alive and well.
Tip: Epicurean vouchers for gourmets
Give the gift of time and pleasure, with a voucher for Gourmet Restaurant Brandstätter. Order your gift voucher here, or find the right gift from our selection of home-made specialities.
Come and see the high quality and creativity of Tobias Brandstätter's cuisine for yourself.
Brandstätter breakfast:
Monday - Friday
07:00 - 10:00
Saturday & Sunday
07:30 - 10:00
Cuisine:
Monday - Friday
11:30-14:00 & 18:00-21:30
Saturday & Sunday
Closed!
Excludes the festival period, trade fairs, Advent