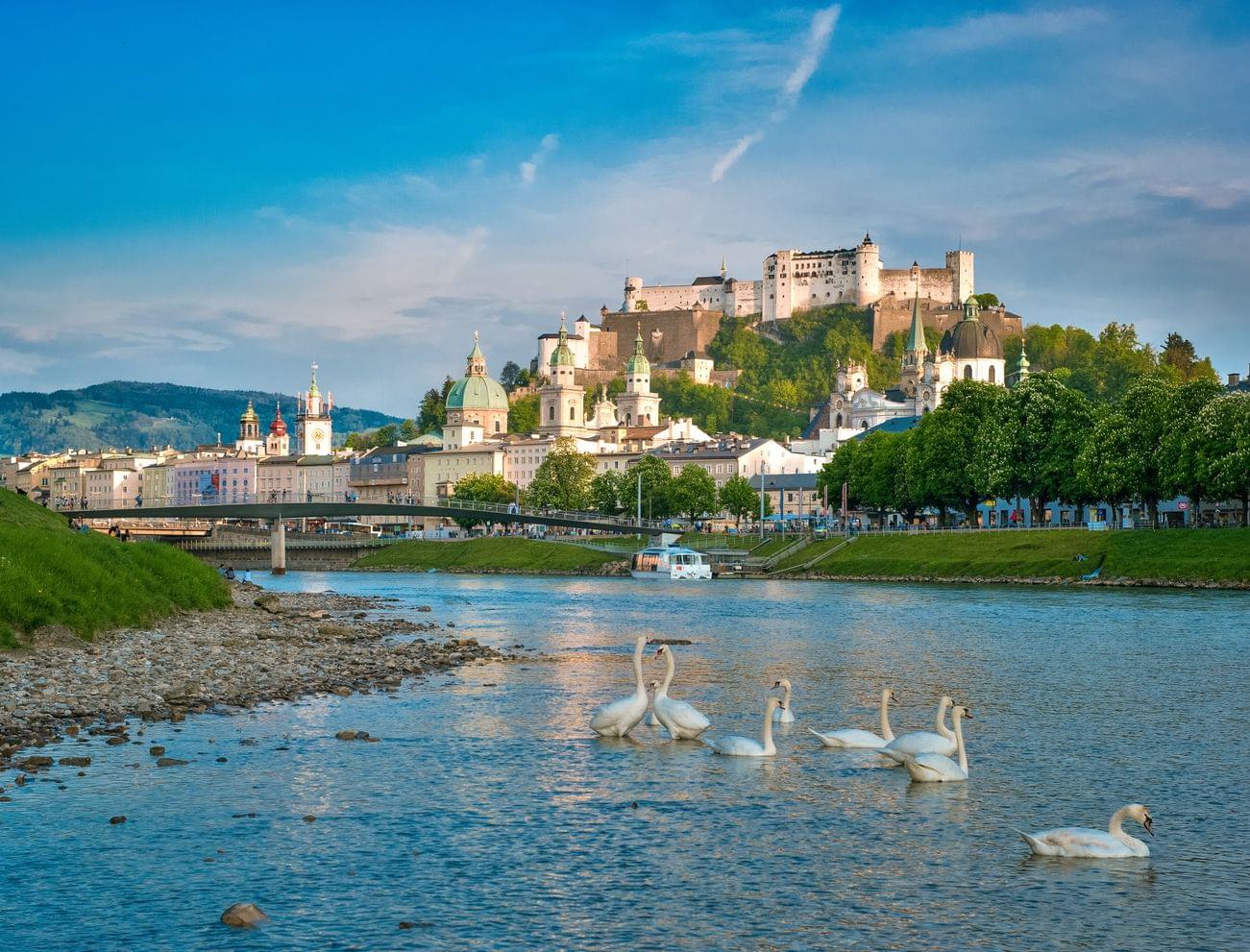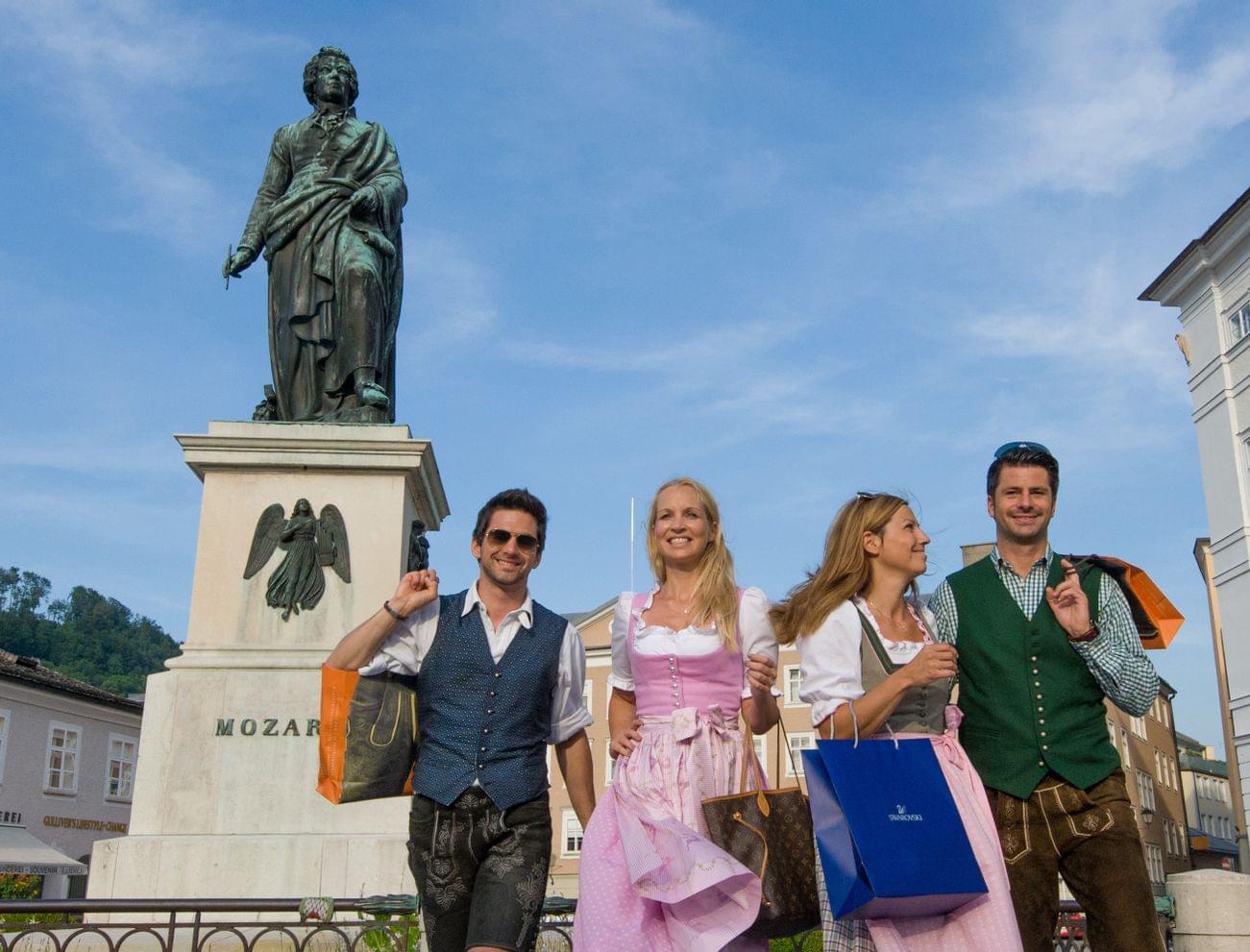 Mozart city, cultural metropolis and shopping city
The city of Salzburg
Salzburg, a historical and culturally charged cosmopolitan city is, in so many respects, an exciting destination for a weekend, a short trip or an extended cultural holiday.
Salzburg is a city of contrasts. And it is these that presumably make the Mozart city so attractive and alluring. Salzburg has history. Yet Salzburg is modern too. Salzburg epitomises culture. And Salzburg is trendy and stylish too. Salzburg inspires in terms of cuisine. Salzburg is also close to nature. Salzburg and a stay in the Hotel Brandstätter are always worth a visit! Old and new. Culture and cuisine. Lifestyle hot spot and business city. Trendsetter and traditional ensemble. Along with the world-renown festivals, countless cultural highlights await, alongside events, cool vernissages, galleries, shopping areas, gourmet temples and unique coffee house culture. Even the night life is in a class of its own, and is alluring thanks to the groovy bars, the multi-faceted cuisine and cool meet-up places that are very much on trend.
This city enchants, with its many lovely, hidden places providing wonderful views and countless opportunities to enjoy tours. At Mirabell Palace with the impressive floral displays in Mirabell Gardens, so many features catch your attention: the palace, wonderful flowers, Pegasus Fountain – or maybe you just want to take in the hustle and bustle for a while and watch people who have come from all over the world?
A stop-off at Mozart's birth house, where Mozart lived for 8 years, before he finally ended up in Vienna, is definitely worthwhile. From there, continue to the old town area, past the many little cafés and shops until at Salzach, with its leisurely waterside areas, you get to chill out and relax. Here – with superb views to Salzburg's old town area – the legendary Café Bazar, also managed by the Brandstätter family for over 25 years, is right at the river. Enjoy the views to Salzburg fortress, to the famous Makartsteg 'Love Locks' bridge, along with your apple strudel and cappuccino - pure Salzburg. This wonderfully idyllic atmosphere is breath-taking. The river bank promenades on the Salzach are excellent for walking, running, hiking and cycling too.
During Advent too, Salzburg's style is more than enchanting; the Christmas market with its countless stands, culinary delectations and the obligatory mulled mine and punch, winds its way from Alter Markt to Residenzplatz, where you will come across the famous Residenzbrunnen – Europe's second largest marble fountain. Another highlight on this plaza is the famous glockenspiel. Around 35 bells in Salzburg Museum play different tunes every day at 7.00, 11.00 and 18.00, at the moment for instance it is the Magic Flute by Wolfgang Amadeus Mozart. And on the topic of Mozart, then let's mention the Mozartkugel chocolate, originally made by hand in famous Fürst Confectionery. The original Salzburg Mozartkugel was made here, but not just one, two or a few hundred, on average up to 10,000 balls a day.
Travelling in the city by bus
Staying in the Hotel Brandstätter, your 4-star Gasthof in Salzburg, you can get to the historic Old Town area in around 15 minutes by public bus. The stop is right outside the Hotel Brandstätter. Once you get to the old town area on the Salzach, designated a 'World Cultural Heritage Site' by UNESCO, all the sights are easily accessible on foot.
Tours of the city with City Guide
The city of Salzburg has such an abundance of churches, monasteries, museums and memorials that choosing is difficult. The best thing to do is to head out on an initial tour through the city accompanied by a guide, who will provide you with information about the history of this old episcopal city and about some of the excursion destinations in Salzburg, in an interesting and witty manner. The team in Hotel Brandstätter are happy to book a Salzburg City Guide for you. More information is also available on the Internet pages of the official Salzburg City Guide.